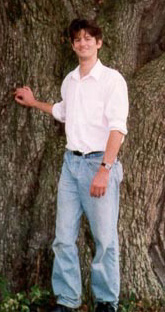 Hi Everyone! I thought I might say a few things about me and my artwork.
The signs you see on my web pages were inspired by alot of antique advertising and designs from the past. I have always enjoyed "old stuff", antiques, and antiquated hunting and fishing relics . Over the past few years, I've begun to collect alot of old things, and have been continually amazed at the beauty and power of antique advertising. To me, these old designs bring back feelings about the past, and the naive and unique ways in which we once responded to product advertising and its various promises. In the old days, all the old fonts and lettering were designed and done by hand, and even up until the advent of modern printing methods, much of the designs you see in old magazine ads, for example, were completely laid out by hand. In the case of a hand-painted cabin sign, we remember a time and period when signs were made to represent a specific place or outdoor experience. And that too is something we have lost in the current mass-market, advertising venue.
What I have always tried to do in my work, is look to the past and capture the unique spirit of those ads in everything I design and illustrate. And in so doing, I hope to capture a piece of the rugged outdoorsman's spirit, which once was what the American experience was about.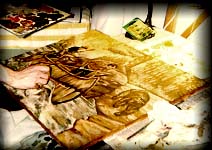 Besides old signs, I have painted and illustrated lots of other pieces, including:
fine oil paintings of the west,
etchings and engravings (prints)
hunting & fishing illustration,
shirt designs
and murals of various types.